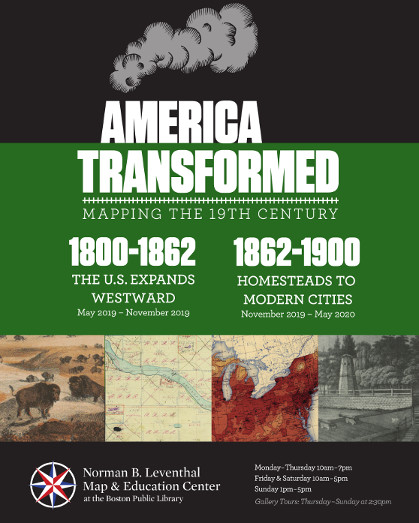 America Transformed: Mapping the 19th Century
Part I: May 4 – November 10, 2019
Part II: November 23, 2019 – May 10, 2020
During the 19th century, the United States expanded dramatically westward. Immigrant settlers rapidly spread across the continent and transformed it, often through violent or deceptive means, from ancestral Native lands and borderlands teeming with diverse communities to landscapes that fueled the rise of industrialized cities. Historical maps, images and related objects tell the story of the sweeping changes made to the physical, cultural, and political landscape. Moving beyond the mythologized American frontier, this map exhibition explores the complexity of factors that shaped our country over the century.
The United States Expands Westward, the first part of the exhibition, on display until November 2019, begins at the end of the 18th century, when Euro-American settlers were exploring, surveying and rapidly taking over lands west of the Appalachians that were inhabited by Native peoples, as well as the French and Spanish. The newcomers developed canals, roads, and railroads, in many places appropriating Native trails, and created an integrated transportation network. Exploiting land and mineral resources, they initiated a capitalist economy based on agriculture, mining, and industry. This part of the story concludes with three significant events in the early 1860s that had major impact on the transformation of the nation's physical and cultural landscape: the Civil War, the passing of the Homestead Act, and the authorization of the first transcontinental railroad.