We sat down with Kyler Hoogendoorn-Ecker, a rising senior and Seevak Fellow at the Boston Latin School, to reflect on his first week as an LMEC summer intern. In addition to learning about our collections and services, Kyler will lend a hand to various LMEC projects at the intersection of historical geography, modern mapping tools, and public programs. Read on to learn about his interests in geography, creative writing, and more!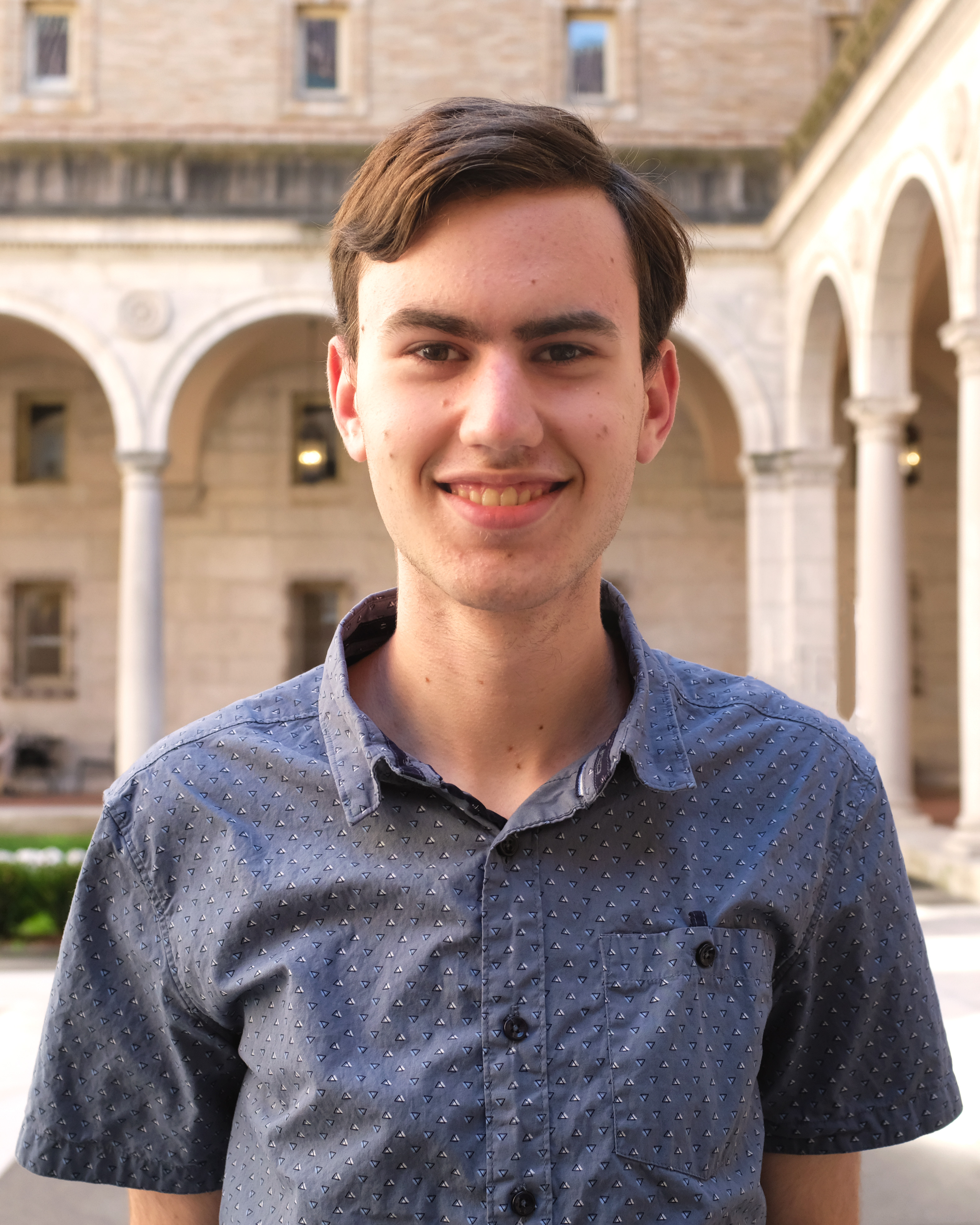 Kyler, we're so thrilled that you're here with us for the summer. Tell us a little bit about yourself and your background. What made you interested in the Leventhal Map & Education Center?
I'm Kyler Hoogendoorn-Ecker, and I'm a rising senior at the Boston Latin School. I've lived in the Jamaica Plain/Roxbury area my whole life and I love the richness of cultures and diversity that the neighborhood holds. I have many relatives around the world (especially in the Netherlands), whom I'm lucky to be able to visit often, so I've had an interest in travel and world geography since I was very young. I think that geography is fascinating and I have spent many hours of my free time looking at maps and learning the names and capitals of as many countries as I can. I pride myself on being interested in an array of different subjects, with the study of Latin and the Classics being chief among them, as well as literature in general: I'm an avid reader and I like nothing more than a good book. The Leventhal Center seems to me a place where knowledge and ideas are everywhere; it's a gold mine of new information to learn and I think my sense of curiosity is a major part of what drove me here. I'm really looking forward to being here and exploring it all!
Have you had any experiences that has made you particularly curious about maps and geography?
One thing that made me especially curious about geography was competing on the WGBH show High School Quiz Show, because in studying for it I spent a lot of time memorizing geographical trivia: capitals, mountains, rivers, national parks, you name it. Often, however, I found it hard to focus on the things I was trying to study, because I would spend so much time reading deeper into the geographical or historical information and get sidetracked. That experience definitely gave me a stronger interest in maps and geography and gave me a desire to learn more about the world.
An experience that made me more curious about local geography was working with the Massachusetts Coalition for Occupational Safety and Health to discuss and spread awareness about environmental injustice in Boston. I found it especially impactful to visually see the distribution of heat islands, green space, and industry in the city and how it corresponds with the locations of marginalized communities, especially communities of color. This work makes me especially enjoy More or Less in Common and really showed me how deeply entwined geography is with issues of justice, equity, and human rights.
You mentioned before that you like to go for long walks, often getting lost along the way. I love this because I've always found "getting lost" to be such a human experience and one that's tied deeply to geography. What about that experience excites you? In what ways do you see it being related to maps or geography?
I love to venture out into the parks of Boston with no specific plan in mind and to go where my mind takes me. To me, this kind of experience is a microcosm of being completely "off the beaten path", and about as close as one can get to that in an urban environment. There's something freeing in having to rely only on your wits and memory to navigate and in building a personal relationship with the places around me: they have my own names and their identities depend on my interactions with them. I think that mapping a place is an intimate experience that can hold a lot of meaning. The things that we subjectively value or notice about a space (and therefore display in our representations of that place, i.e. maps) might be entirely different from another's. Being my own geographer, albeit on a very tiny scale, is a very rewarding experience, and I recommend it to all. Lest I worry too much about getting lost, I have ready access to the work of better cartographers than me with a few buttons, but I always try to use Google Maps as a last resort to finding my way. In my opinion, although using this common resource has of course countless benefits, it also depersonalizes our relationship with the spaces we inhabit. It might be easier to say "XXX street" than "that place where we first met that one time", but there's something a little less magical about it, isn't there?
Do you have a favorite map in the LMEC collections?
There's so many fascinating ones and it's so hard to choose, but one of my favorite ones so far is a Latin map of Central Africa by Willem Blaeu entitled "Aethiopia Superior vel Interior; Vulgo Abissinorum sive Presbiteri Ioannis Imperium" (which translates to "Upper or Inner Ethiopia [that is, Africa]; Commonly (known as) the Empire of the Abyssinians or of Prester John").
It's full of intriguing notes, for example, "...Sirens \[mythical nymphs thought to lure sailors to their deaths\] are said to be in this lake" , and because of my experience with Latin, it's all the more fun to decode them. It also shows just how profoundly ignorant 17th-century Europeans were of the interior regions of Africa and the myths and stories they developed about them. While I'm also very interested in map work a little more close to home in time and space, I enjoy seeing how my interests and knowledge can intersect like this. This map is only one example of the thousands of incredible pieces at the Leventhal Center and I'm looking forward to being able to delve deeper into them.
What kinds of longer term plans do you think your upcoming work at the Map Center might help you prepare for?
At the moment, I'm possibly interested in a career in some form of creative writing, and I think that the skills learned in mapping physical space are transferable to any sort of representative activity. The choice of what to highlight, compare, or focus on when representing the physical world through a map is also one when trying to represent it through writing, visual media, or even music. Any form of art is an attempt to depict the real world never exactly as it is (even a photograph only captures one angle at one moment from one point of view), but in some way that serves a certain purpose. I believe that at its core that's the same thing as making a map, and the skills used in one are useful in the other.
Besides my personal career aspirations, as a young person in a time when climate change is radically modifying the world I live in, it's paramount to have an understanding of the geography of environment and how it intersects with the political and social spheres of the world. As long as we live in a physical world, it'll never stop being important to know what it looks like, and in a world as dynamic as today's, it's essential to see how it's changed over time, and how it might change again.
Alright, last question: what are you most looking forward to about working at the Center this summer?
I am really excited to explore the fantastic collection of maps here and I'm expecting to have learned so much through my work by the time the summer is over. I'm almost incredulous to be in a place where there's so much to discover and I couldn't be happier to have this opportunity. I'm also especially looking forward to putting my own work into the Map Center, whether that be through investigating and writing about maps in the catalog, doing georeferencing on maps already here, or something else! I believe that learning should be approached not only as a consumer, but an active participant and creator. I can't wait to get to work and experience everything the Leventhal Center has to offer!