As a long-time radio-lover, I couldn't help but smile when I saw this recently-digitized Philips Radio map appear in our collections portal the other week. It shows international shortwave radio stations around the world, circa 1935. It includes a pictorial sketch of the world in a Mercator projection, an alphabetic index to radio stations across the bottom, and a small inset on the right side showing the radio stations as they relate to different time zones.
It makes sense that maps and radios go hand-in-hand: the invention of radio was, of course, all about going distances and crossing borders. Public radio first entered public consciousness in 1920, after wartime restrictions on radio broadcasting were lifted at the end of World War I, and by 1922, a broadcasting boom swept the globe. Radio was not only used for news and weather, but offered expanded programming and entertainment.
Listen to this recording from the British Library to hear what is considered one of the pioneering entertainment radio broadcasts, the "voice around the world": Singer Nellie Melba's June 15, 1920 concert transmitted from Chelmsford, England, across European cities.
In the December 16, 1922 issue of The Country Gentlemen, an agricultural and rural magazine, John R. McMahon writes: "The radiophone is a marvel. After the automobile, it is to become the foremost agency of civilization. Anybody who feels discouraged about things in general should clamp on a pair of ear phones and tune up."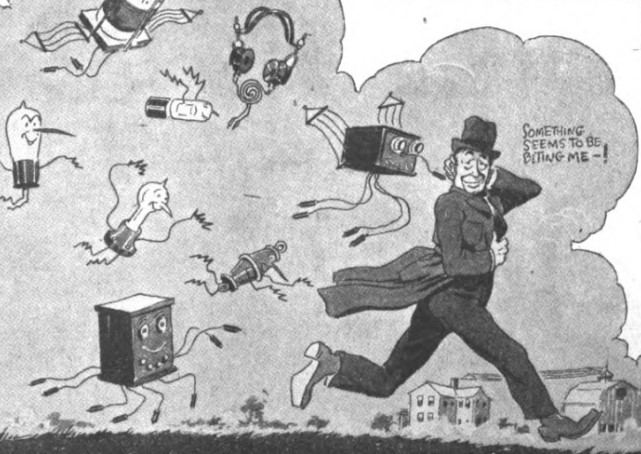 So by 1922 and beyond, there was enough radio activity for publications to begin putting together lists—as well as maps—of stations that were broadcasting to the general public. A Radio News article in March, 1922 attempted to list all the national broadcasting stations in existence, while also noting that "Things are moving so rapidly in Radio of late that it becomes almost impossible to keep up with the trend…what a tremendous grip the Radio telephone has upon the popular imagination to-day." Stations arose so often, and changed so frequently, that no single article, list, or map was able to keep up with all the stations on the air.
The Philips Radio map is not the only radio map in our collections: you may have seen us post before about this Radio Map of the United States, from about a decade earlier (~1922). It attempts to show the locations and call letters of broadcasting stations across the US, marked with red circles, as well as the division of four time zones marked in thick red lines. The margins alphabetically list the city, the name of each station, the broadcast wavelength, and the timed schedules.
The two stations in Massachusetts are in Medford Hillside and Springfield, broadcasting from the American Radio & Research Corporation and the Westinghouse Electric Company, respectively. You can even see their daily schedule showing they are playing everything from news, lectures, and concerts, to children's bedtime stories and Sunday church services. One Washington D.C. station has a special broadcast on "Reports on Stolen Automobiles," while the University of Wisconsin hosts an evening "Exchange of Messages with Amateurs." (Pre 1920, the term "amateurs" referred to all non-professionals interested in radio, and after broadcasting to the general public become common in the 1920s, "amateur" would "come to have a narrower meaning, of persons who held amateur radio transmitting licenses.")
Radio would remain the most popular communication form for the next three decades. An excerpt from this 1944 map, which is showing a "pictorial history of transport and communications," highlights how the radio developed from being only able to transport 50 feet in the late 19th century, to just 50 years later when radio "covers the earth" and "is in every home." By the 1950s, television had become the broadcasting platform of choice.
Other radio maps in our collection include: A 1922 map created by the Radio Corporation of America (RCA) showing their "direct marine radio service to and from ships at sea," (with northern stations located in Chatham and on Nantucket); and this 1942 map of radio stations and cables in the Philippines.
Finally, a bonus: I love this website (also available as an app) that lets you tune in live to radio stations around the world. Perfect for geography and radio lovers alike!