How should different communities handle environmental issues that cross their jurisdictions? Water flows downstream no matter whose neighborhood it passes through. The noise of airplanes and automobiles spreads outwards from airports and highways. And, most dramatically of all, the atmosphere covers the entire globe, making climate change everyone's problem. Unlike these environmental forces, however, political power and representation don't move across borders as easily. Many environmental injustices occur when hazards get shoved from one side of a social border to another, onto people who may have no say in the decision making process.
Plan of Boston and its Vicinity, Showing the Drainage Area of Stony Brook Which Empties into the Full Basin of the Back Bay
H. M. Wightman; Back Bay Commissioners
ca. 1863
Leventhal Map & Education Center
As the Back Bay neighborhood of Boston was filled to make new land, nineteenth-century Bostonians were forced to consider the natural geographies that connected land and water. This map from the early 1860s shows the drainage basin—what we now call a watershed—of the Stony Brook, using a blue outline and wash. The basin covered parts of Roxbury, West Roxbury, and Dorchester, all of which were independent of Boston at the time, as well as parts of Brookline and Dedham, which are still independent today. The new neighborhood of Back Bay, factory developments with immigrant workers in Jamaica Plain, and farmers in West Roxbury all had very different social and economic conditions, yet all were affected by decisions made about environmental control of the brook's watershed.
Excerpt from National Transportation Noise Map
Office of Spatial Analysis and Visualization at the Bureau of Transportation Statistics, U. S. Department of Transportation
2018
Leventhal Map & Education Center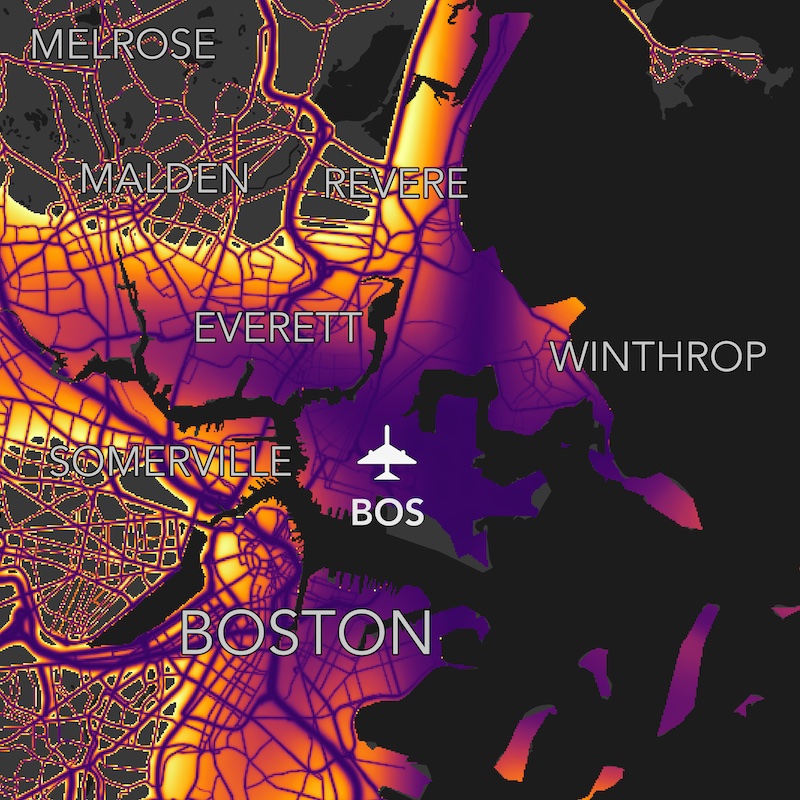 This map uses bright colors to show areas that suffer from noise pollution. Chelsea, East Boston, and Revere are highly impacted by noise from airport traffic, while neighborhoods like Chinatown lie at the crossroads of busy highway intersections. Transportation noise is closely linked to transportation exhaust, meaning these communities aren't just loud—they can also be polluted. Yet these local communities usually have little say over how these national and international pieces of infrastructure are regulated. Meanwhile, affluent suburban communities outside of the urban core tend to be much more insulated from noise pollution.