Time:
90 - 120 minute block class or two class periods of 45 to 60 minutes
Purpose
Students recognize and reflect on the connection between the things we consume and enjoy as necessary or discretionary in our lives in Boston, Massachusetts and the impact of extraction/production on the people and environment in other parts of the city/state/country/world. What is the impact and what is our responsibility? What kinds of people tend to be the most negatively affected?
Students learn in more detail about "far" and "near" degradations of oil and other petroleum products and the way large corporations are able to often evade responsibility as they benefit financially.
Students learn about some ways people are addressing the impact and are encouraged to imagine other possibilities. How can we participate in reducing harm?
Steps:
1. Introduction: 3 minutes
The things we use and consume, necessary and discretionary, originate somewhere. The finished products and the materials used to make them often come from quite far away. Our habits of consumption connect the world in particular ways. This lesson examines how our consumption of petroleum fuels, oil and gas, has connected the United States to other parts of the world and the negative consequences of that connection.
2. An example of the near/far relationship: 5 minutes
Ask students to stand in a circle facing in, shoulder to shoulder. Everyone turns to the left and reads the tag of the shirt/jacket in the back of the person standing in front of them. If there isn't one, the person in front can look for a tag in the side seam and share the information with the student behind. It may be necessary to address student awkwardness in groups where there is not much of a sense of shared community. Have students verbally share out what they found.
Example questions:
What did you find? Where do our clothes come from?
How many items came from "near" - New England?
How many from the United States?
Like our clothes, we pay for things that contribute to our comfort that come from somewhere else. Most of our stuff comes from "far". Let's shift and think about this idea with oil and gas.
What do we use oil and gas for? Heating, driving, flying, cooking food, etc?
Even though most of our fossil fuels come from the United States today, a lot of it has always come from far away.
3. Historical example: Venezuela map (1910-1923): 10 minutes
[Map of parts of Venezuela and Colombia]
Richard Mayer
ca. 1910–1923
Leventhal Map & Education Center
Have students go around in a circle, with every student sharing something they notice or are struck by when they look at the map AND the map lengend. It's fine if they say something that someone else has said. If a lot of people notice the same thing, it means it's important to the map in some way. This process will help the whole group have a shared experience of what there is to see.
Then, What do you think this map is showing? What do you think its purpose was? Who was its audience?
Then explain the context: This colorful map shows parts of the countries of Colombia and Venezuela, the northernmost part of South America, sometime between 1910 and 1923. Each colored area shows a claim made by oil companies from the United States and Europe scrambling to acquire the rights to extract oil, mostly from the Lake Maracaibo region in Venezuela. By 1928 Venezuela would be the world's largest oil exporter. Today, Venezuela's oil industry is controlled by the Venezuelan government, but the careless actions by the foreign oil companies in the past left the area severely polluted. For, example, when the companies left Venezuela, many of them just left their pipes and oil wells behind and oil continued to leak from them. So here's an example of how something Americans have bought to make life easier and more comfortable had a negative effect on a place far away. Very few Americans were or are aware of the impact of the oil and natural gas industry on Venezuela.
4. Where did the oil go? Looking at the near: 13 minutes
Put students in four groups. Each group will have a map to explore that relates to the question Where did/does the oil go? Students have 5 minutes to look for anything on the map that they think might connect to the larger question and then 2 minutes each to share out what they saw and their ideas about where the oil went and still goes. Maps can be printed or viewed on a laptop.
Group 1
The world according to Standard (N.J.)
Richard Edes Harrison
1940
Boston Public Library
Boston. East Boston
Fairchild Aerial Surveys, Inc.
1925
Boston Public Library
In addition to the photo above, look at the annotated photo below, which shows locations marked with red and yellow dots. Then have students compare these locations with the dots shown in the map for Group 3.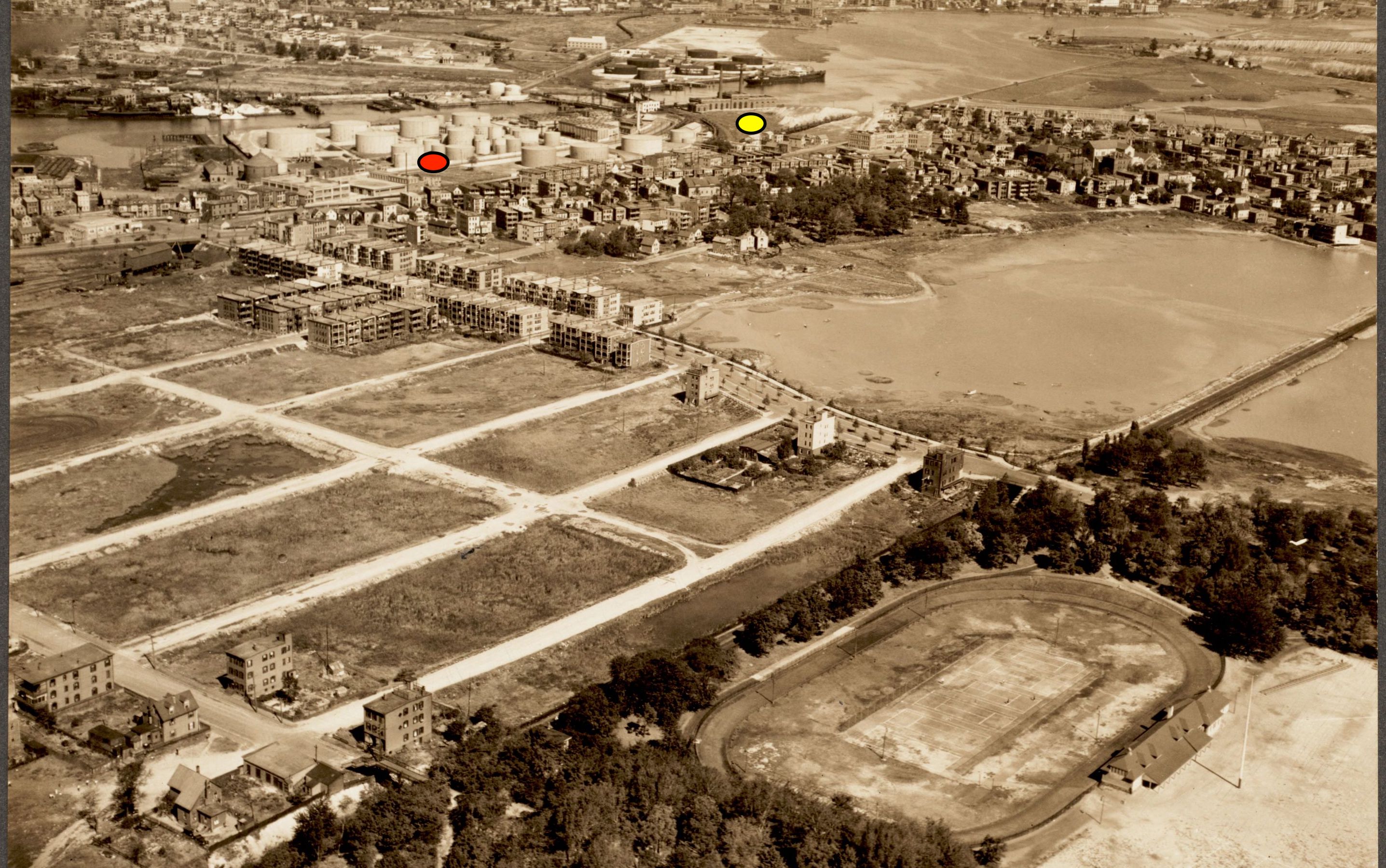 Group 3
Plate 28 from Atlas of the City of Boston: Charlestown and East Boston
G. W. Bromley & Co.
1922
Leventhal Map & Education Center
In addition to the map above, look at the annotated map below, which shows locations marked with red and yellow dots. Then have students compare these locations with the dots shown in the image for Group 2.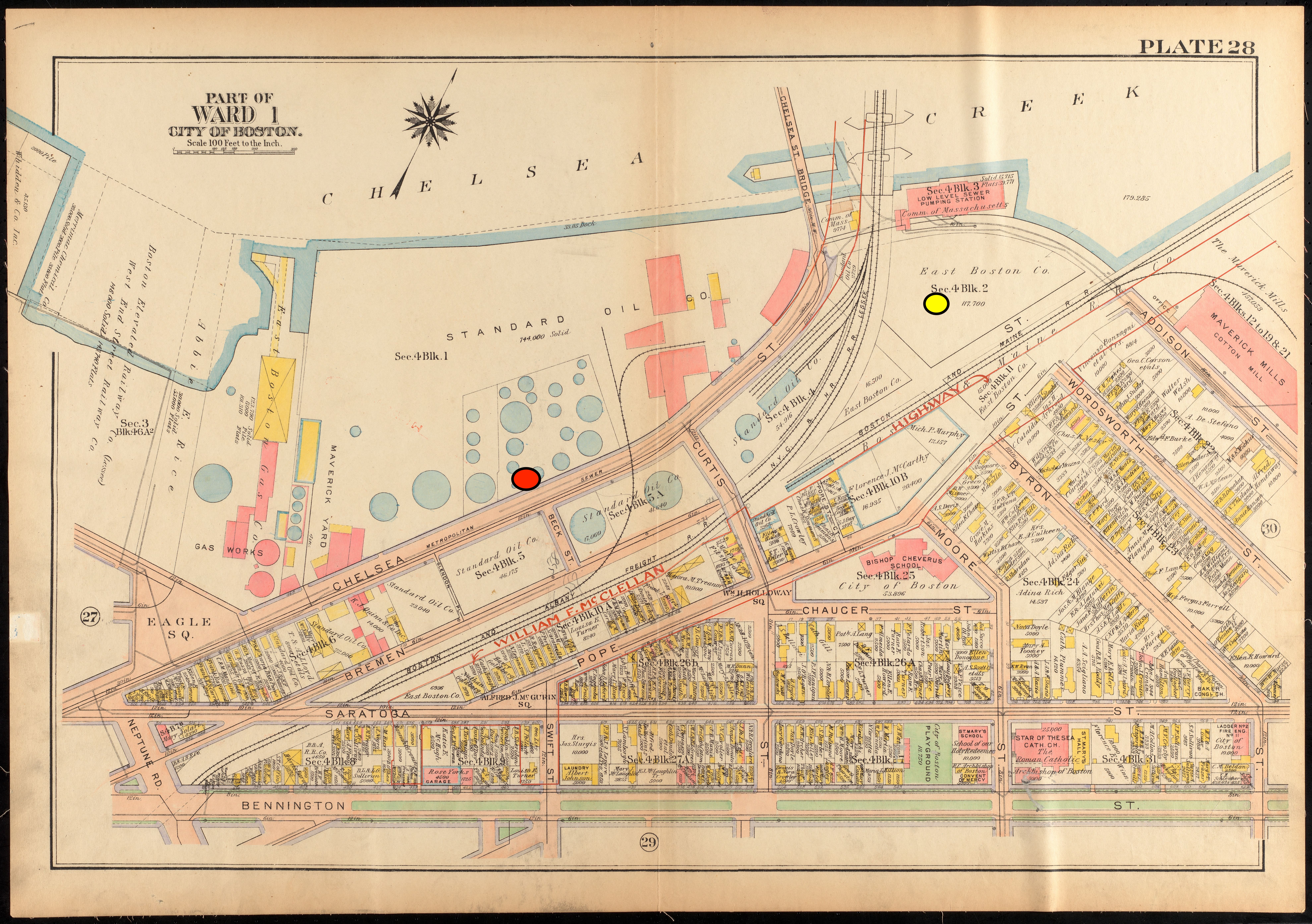 Group 4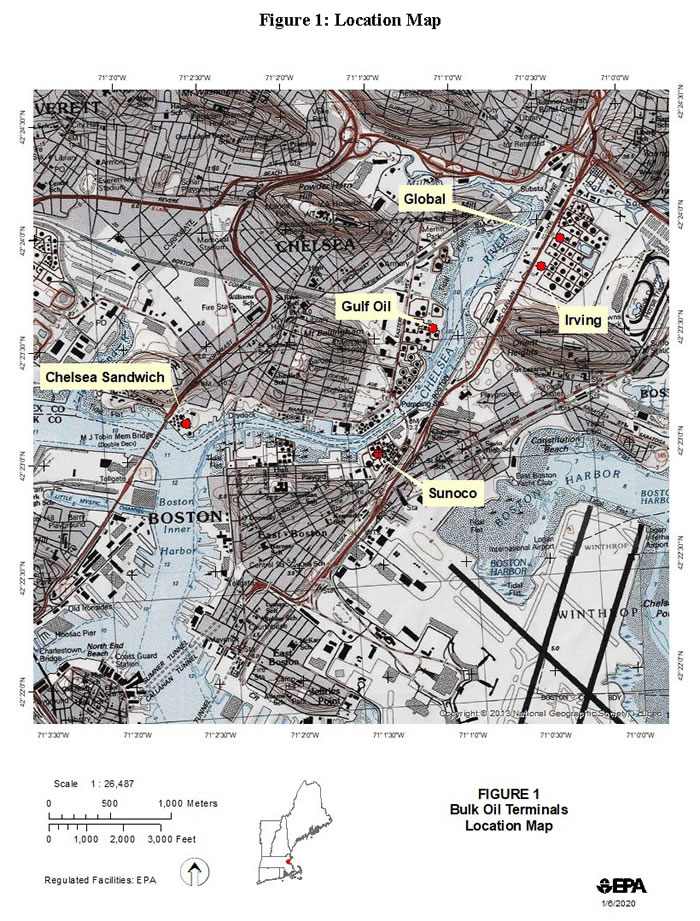 You have seen that oil from far has ended up very near to us, in the past, and, in some cases, in the present—in East Boston and. Chelsea. After the government of Venezuela took over oil production in 1976, many foreign companies looked for oil elsewhere, but the US continued to import oil from Venezuela into the 2000s. We now get a lot of our fossil fuels (crude oil, gasoline, heating oil) from Canada, about half of all imports, then from Mexico, Saudi Arabia, Russia (prior to the invasion of Ukraine) and Colombia and South Korea. 65% of our crude oil is domestic, extracted on US territory. Our supply is very diversified. But, no matter where it comes from, we consume a lot of fossil fuel, and it has serious effects on the environment and on people.
5. What are the impacts on people and the environment of oil and gas extraction and consumption?: 15 minutes
Students get back into their groups. Each group has different resources to explore the question.
Groups report on what they learned:
What did you learn from your resources about the impacts of extracting, storing and transporting, and burning fossil fuels?
6. Who lives in this near and far?: 15 minutes
The first focus of this section is Lake Maracaibo and the second is the East Boston/Chelsea neighborhoods near the Chelsea Creek fossil fuel storage facilities. The teacher can share either video to show students the effects of oil extraction on Venezuelan fishing communities and then present the map of the Boston area.
Who lives on Lake Maracaibo in Venezuela: PBS News Hour 0:27 – 2:39
Associated Press: For some Venezuelans, oil has become a curse
Chelsea and East Boston
7. What is the remedy for environmental justice? What is possible?
When we talk about the fossil fuel industry, we are talking about all the companies that extract, store and transport, and sell fossil fuels to other companies and people like us for powering our cars and farm tractors, cooking our food and making packaging for supermarkets, and heating and cooling our homes and schools. Though our country is now converting some of our energy use from fossil fuels to electricity powered by the wind, sun, and water, it's expensive to do. Oil companies have known about the dangers of fossil fuels for warming the planet for 40 years, but they intentionally hid what they knew from people by lying about it or making it sound impossible to address. Now that we're actually making changes, we know it can be done, but the fossil fuel industry is still trying to prevent the government from limiting taking fossils fuels out of the ground and trying to get people to use less. They don't want to make less money because a lot of people make big money from the business of fossil fuel production and use.
What the companies have done:
Exxon hired teams of scientists in the 1970s to explore the potential planet-warming that might be caused by burning fossil fuels. In these clips, a scientist reads a report the company released downplaying the effects of fossil fuel consumption, and he and a politician of the time respond to the company's decades-long inaction. The Power of Big Oil: Part I, 58:24 – 59:51, 1:18:17 – 1:22:32
What can we do to try and remedy the problem?
In our exhibition, we highlight what some people in East Boston and Chelsea are doing to try to limit the hazards of fossil fuels. In East Boston, communities are coming together to try and stop the building of an electrical station next to the area where a fossil fuel company stores the jet fuel for Boston Logan Airport out of fears of an explosion when the land floods as a result of climate change. In Chelsea, activists are trying to improve public transportation for residents who have been most affected by living close to fossil fuel facilities.
Chelsea and East Boston riders, and all riders in low-income communities and communities of color, deserve safe and just transportation. Our communities provide so many of the region's benefits including the airport, all of its jet fuel and related industries, heating fuel for 80 percent of New England, road salt for hundreds of communities, and a thoroughfare for North Shore commuters to get into Boston.

Our residents are paying the price with their health. For decades, our residents have shouldered a disproportionate share of health and environmental burdens. It is time for public officials to recognize and respond to this inequity. It is time to give respect to environmental justice communities by providing true transit justice.

We have some of the highest rates of respiratory and cardiovascular disease, stroke, and cancer.

— https://commonwealthmagazine.org/environment/chelsea-and-east-boston-deserve-true-transit-equity/
What are other ideas we can add to these to try and remedy some of the damage done to the near and far of fossil fuel use?
Have students brainstorm possible actions that can be taken to move from damage to remedy. Below is a list of possible responses.
Use less so we need fewer facilities
Provide reparations for people who have sustained harm
Support organizations for fishers in Venezuela and efforts to clean up all the oil mess there
Ask different questions on city/state/federal census forms to identify communities at risk and communities that are also resilient
Clean up the areas! Restore healthy natural environments
Support the development of sustainable energy
Support divestment in fossil fuel
Better public transit: affordable, clean, frequent
Special training programs in clean energy for residents of fossil fuel EJ communities
Promote new technologies
Educate in your schools, families, churches, youth groups, etc.
Join with other youth groups: youth voices have a lot of power right now – seize the Moment!
Look critically at policy proposals for how they impact EJ communities: these may be kind of hidden
Promote community cohesion: resiliency
Register to vote!
Learn more
Lesson extension: Have students research local youth organizations involved in climate justice advocacy and action, and invite speakers from these organizations to come speak to the class.
Students can also create PSA-type videos or posters to share with the school community educating community members about the impacts of the fossil fuel industry, relationships between communities insulated from the impacts and those most vulnerable—near and far, and possible remedies.